Join the Anji Play mailing list. Receive updates in your inbox!
Anji Play World Newsletter
Vol. 2, Issue 3, 2018

Ms. Cheng addresses Russian educators in two Moscow speeches, visits schools there
Ms. Cheng shared her experience, views and the principles that inform the practice of Anji Play with educators in Moscow during a visit sponsored by the Rybakov Foundation and organized by the foundation's University of Childhood initiative.
Over one hundred deeply engaged teachers and parents traveled from across the Russian Federation to hear Ms. Cheng speak at New School, Moscow. In her remarks, she described the history of the development of the Anji Play Approach, her role in that process, and the ideas that form the principles behind pedagogical decision-making, including the role of the teacher, environmental design and the use of technology in the school and classroom.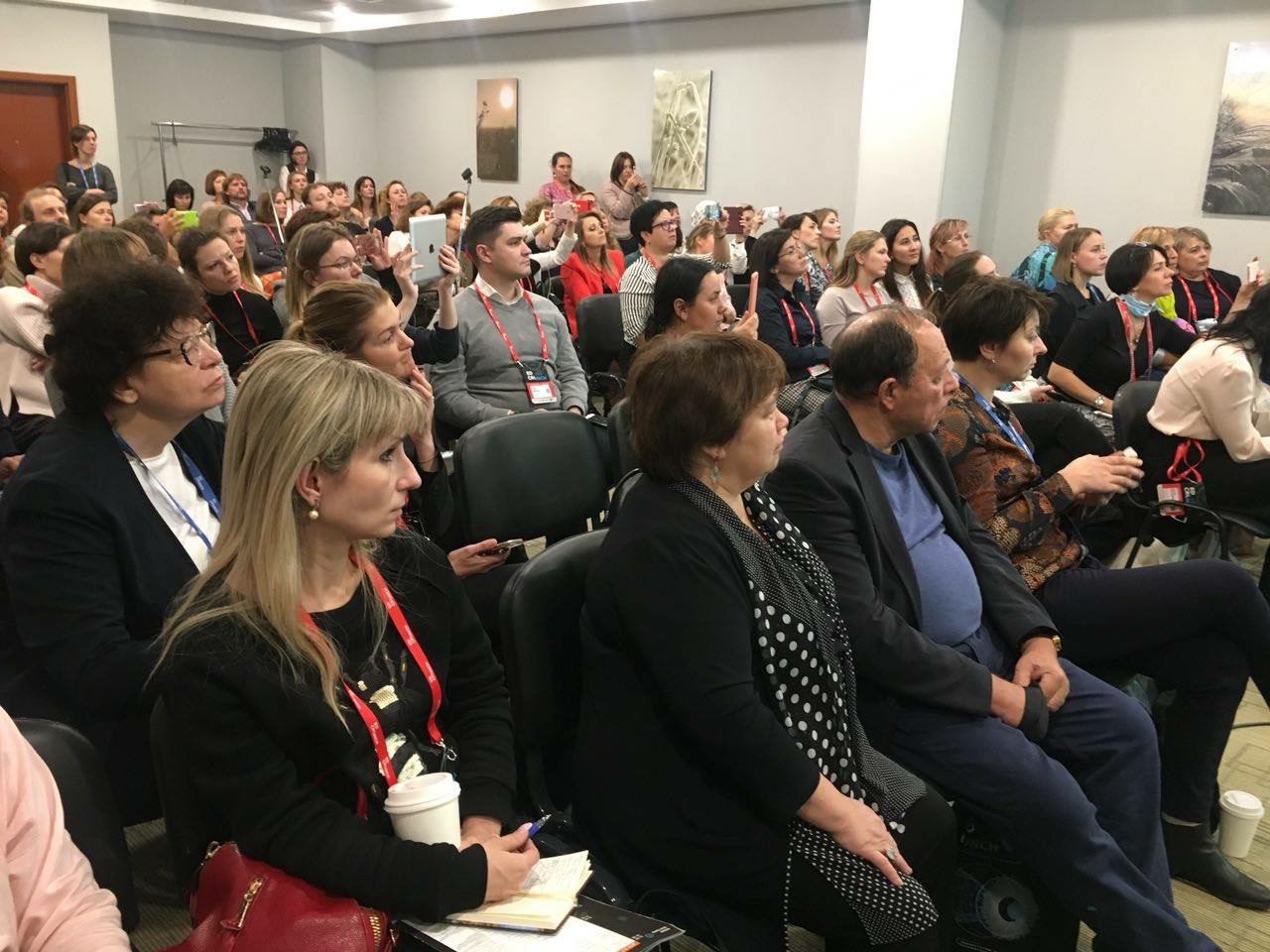 In her address to educators at #EdCrunch 2018, Ms. Cheng delivered a clear description of the optimal learning that takes place when the conditions for True Play are present. At the same time, she delivered a clear criticism of models of curriculum and intervention in the lives and learning of children that do not truly place the relationship between the child and the adult at the center of all pedagogical considerations. Her radical commitment to the innate capacity of the child elicited protest from some of educators in the audience, and debate ensued on Russian social media about the appropriate role of the teacher in structuring the learning and experience of the child.

Ms. Cheng visited primary school classes at New School, and the early education programs at the School of Self-Determination, founded by Alexander Tubelsky in 1985 on the site of School 734 and Kindergarten 869. She observed at the school, met with teachers and administration there and shared her views. Ms. Cheng also visited Kindergarten 1925, where she met with the school's director and with the principal investigator there, Dr. Nikolay Veraksa, Dean of Psychology of Education Faculty, Russian State University for the Humanities.

Dr. Bailey Keynote at Texas Association for the Education of Young Children Annual Conference

Dr. Chelsea Bailey addressed attendees at the annual conference of the Texas Association for the Education of Young Children (TXAEYC) on October 13 in Galveston. In her keynote address, "True Play: Cultivating the Conditions of Joy in Early Education," Dr. Bailey described how our stance as educators can inform the creation of the conditions that allow for joy to become the experience of the child, teacher, school and community. She shared her insights into the history, practice and implications of Anji Play, based on her years working with Ms. Cheng and global educators and practitioners.

MIT Presencing Institute Visit and Reflection on educator stance in Anji
Dr. Otto Scharmer, founder of the Presencing Institute at MIT and his colleagues visited Anji in June. During their visit, Dr. Scharmer and colleague Adam Yukelson spent time in Anji classrooms and learned directly from teachers about the Anji Play practice of observation and reflection. Adam recently shared his experience in Anji with the Presencing Institute and published a reflection on what he saw and heard there.
"Asking children about their experience of play elevates it into an activity with profound possibility for shared learning – for both the children and the teacher. For this to happen, however, the teacher first has to trust in children's knowledge and capacity to take the reins of their own learning. This involves a commitment to suspend habitual assumptions, redirect their attention to what they observe and to inquire deeply into children's experiences of the world…
Adam Yukelson, "Transforming the Teacher-Student Relationship"
Scaling in China
Efforts to scale Anji Play at the provincial level continue apace in Zhejiang Province. Teachers and administrators from the 103 schools implementing the approach traveled to Anji for three days of research, reflection and discussion in November. During this conference, Ms. Cheng reported on the progress of the work of the 103 schools and of the Anji Child Education Research Center, which she now leads. Environmental changes and the addition of official Anji Play materials at the schools now provide the environmental conditions that challenge teachers to step back and observe. A full report on this conference and the progress of scaling in Zhejiang Province is now available.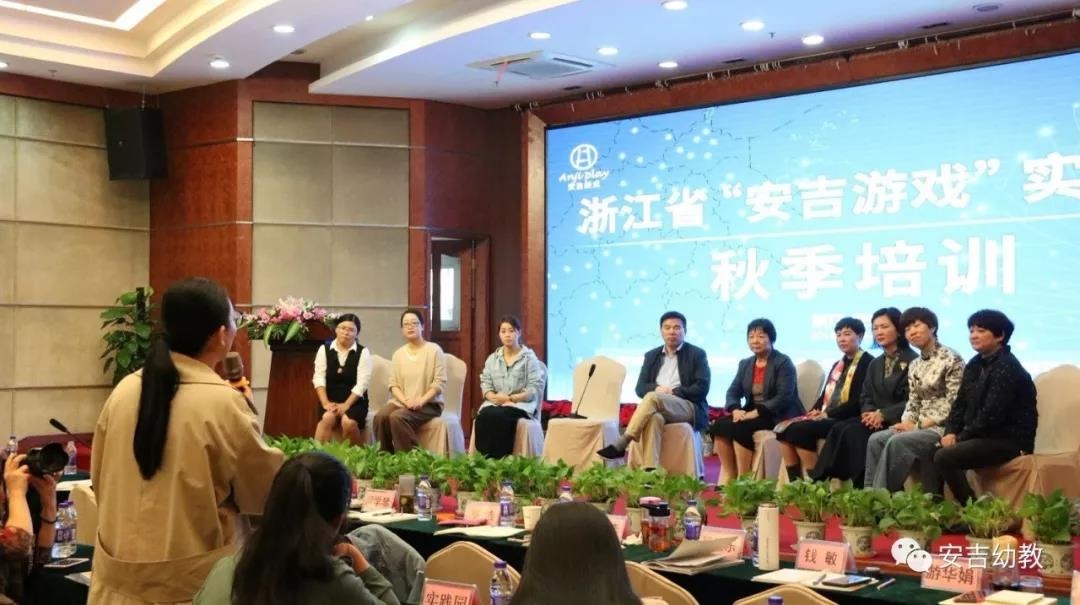 Anji Play programs at public kindergartens in Guizhou, supported by UNESCO and Ministry of Education, and at public kindergartens throughout China continue to expand, grow and thrive as more educators begin to implement the approach and understand the principles of Anji Play.
Dates Announced for First Annual True Play Conference:
The 1st International True Play Conference: A Revolutionary Reconsideration of Learning, will be held from May 12 to May 15, 2019 in Anji. The conference will include contributions from global colleagues working at the forefront of thought on learning and children. Participants will include early educators, experts and policy-makers from within China and from the global educational community. More information, including a list of speakers and registration details, will be available on January 1st.
Register for conference updates at www.anjiplay.com/trueplay2019
Leadership Training
Applications for participation in the first cohort of Anji Play Revolutionary Leaders are due by January 1, 2019. The 15-month program will begin on March 7 in Northern California. This cohort will become the first group of educators outside of China trained to share the Anji Play approach with local, regional, national and global communities.
Apply here: www.anjiplay.com/revolutionaryleaders
Wild Rumpus Awards

Wild Rumpus: an Anji Play Experience and AnjiPlayDate continue to thrive at Madison Public Library. This Fall, Carissa Christner, librarian and leader of the development of Anji Play programming at MPL, was recognized with the South Central Library System "Program Wizard Award" and the City of Madison Mayor's Design Award in the category of innovation. She was recognized for the innovative contribution her work has made to the residents of Madison, WI.
Quote:
"We have discovered that for some teachers, if they really want to hear what children have to say, that their whole state of being is at ease, and they listen closely and that in the process of listening they discover that children are speaking a wealth of information, and these teachers will be receptive to the information that they are hearing. And then some teachers want to hear children say what they the teachers, deep down, want the children to say, things that they want to hear, and will unconsciously overlook what children are actually saying. They can't hear clearly and are unable to truly understand the child's expression. And you can see that their physical state of being is one of anxiety." Wang Zhen, Vice Principal, Jiguan Kindergarten, Anji County interviewed by Dr. Bailey on November 7, 2018.
Anji Play World Newsletter
Vol. 2, Issue 2, 2018
Ms. Cheng Describes the Foundational Ideas and History of Anji Play to Exchange Magazine

"Anji Play: The Child's Right to Play," an in-depth, English language interview with Ms. Cheng, conducted by Joleen Voss-Rodriguez of (Professor, Los Angeles Valley College) appears in the current issue of Exchange Magazine. The interview provides valuable insights into the development of the Anji Play learning ecology, the challenges faced and overcome by Ms. Cheng and her core team of educators, and the critical work of building strong relationships with parents and the wider community.
"Play is a fundamental right and a basic need of all children, regardless of where they live or their specific circumstances. The right to play flows from the rights to the love, respect, and trust of the adults in their lives. It is the responsibility of adults, particularly educational professionals and policy makers, to promote and protect these fundamental rights. When those conditions exist, children naturally engage in the deepest forms of play: discovery and insight. Therefore, the right to play is also the right to joy, the right to love, the right to engage in deeply meaningful learning experiences, and the right to grow, learn, and develop."

Exchange Magazine is a subscription-based service. First time readers can easily register for free access to up to five articles, including this interview.

"Anji Play, Deep Learning & Global Change," Ms. Cheng at Harvard University

On April 21, Ms. Cheng addressed hundreds of educators attending the China Education Symposium at Harvard University. In her address, Ms. Cheng described a crisis facing children and adults around the world. This crisis, she explained, is rooted in outdated systems and ideas that orient the experience of childhood and learning towards pre-defined outcomes and formalized representations of child-direction and that privilege the knowledge and ability of the adult. Ms. Cheng described the similar challenges she faced in Anji and the answer that emerged from her work: a revolutionary commitment to protecting the child's right to experiences of True Play. In this address, she made the following call to action:
"True Play is true learning and is the right of every child. True Play is also the foundation for children and teachers to learn side by side. When we step back and observe the intention of the child's play, we discover children at the same time as children discover the world. Only then can a teacher, a parent, a community or a country truly support the growth of the child."
A video of the address in the original Mandarin Chinese with Chinese and English slides can be viewed here (start at 24:50). We will soon provide a Chinese and English transcript and English subtitled version on our website and social media feeds.
During Ms. Cheng's visit to Cambridge she also addressed MIT MediaLab Lifelong Kindergarten Group on the invitation of Dr. Mitchell Resnick. This was her second presentation to the group and gave her and Dr. Resnick's team the opportunity to dive deeper in her work and ideas.
Wild Rumpus: An Anji Play Experience

Carissa Christner, Childrens Services Librarian at Madison Public Library, Alicia Ashman Branch expanded her innovative Anji Play drop-in program to include three parks, three days a week during this, its third summer of bringing the joys of Anji Play to children, families and communities throughout Madison, WI.

The free Anji Play Experience included more Anji Play materials this year, with the addition of climbing cubes fabricated in Madison and ladders, planks, mats, carts, blocks and barrels shipped from Anji County. Photos, interviews, play stories and Carissa's reflections can be found on her blog.
In addition to Wild Rumpus in Madison Public Parks, Carissa also brought Anji Play to Troy Land & Gardens this summer. Troy Gardens serves over a dozen child care groups that visit the Gardens on a weekly basis throughout the summer, and they also run a weekly day camp. Their innovative programming reaches children and families throughout the wider Madison community. Learn more about them here.
These programs have been supported by the resources, commitment and generous efforts of Madison Public Library and the Madison Parks Division their staff, communities and stakeholders, and by a grant from The Madison Public Library Foundation.
Madison Public Library's Anji Play programming will continue in October with AnjiPlayDate at the Lussier Community Center on Thursdays from 9:30 - 11:30 am. Find more info here.
"I almost stepped in to stop a possible argument and then I saw both kids solve their issues and play together."
-Parent at Wild Rumpus: An Anji Play Experience
"It makes me mindful of my influence. I enjoy watching my son make new friends and see how they create play together."
-Parent at Wild Rumpus: An Anji Play Experience
"Anji Play has turned into one of the most beloved parts of the Troy Kids' Garden. You've opened our eyes, as educators, to the power of play + imagination."
-Troy Land & Gardens Staff Member

Scaling in China and Study Tours

During our October 2017 Study Tour visit to Anji, Dr. Bailey addressed officials from Zhejiang Province Office of Education regarding the transformative value and historical importance of Ms. Cheng's work and the Anji Play philosophy and approach as they considered the work of scaling the approach province-wide. In November, the Office of Education signaled their intention to adopt Anji Play as the official, full-time curriculum for all public early education programs in the province, including all public kindergarten programs. In May, the Office of Education publicly announced this plan.

This major effort to scale the approach to over 2.5 million children ages 3-6 in Zhejiang Province began in earnest on July 12, 2018 when representatives from 103 public kindergartens that will implement the Anji Play approach visited Anji. These representatives from each of Zhejiang Province's 90 counties visited schools, took part in professional development, learned from experts and practitioners, and received acknowledgement of their official status as Anji Play pilot schools. We will provide more updates detailing the progress of this important scaling effort and opportunities for our global pilot partners to learn from the work that is taking place in Zhejiang Province.
Anji Play Study Tours continue to provide an unparalleled opportunity to experience Anji Play and learn from direct exchange and conversations with teachers, children, administrators, parents and high-level Chinese experts and policy-makers. Our April and June Study Tours included educators from the United States, Europe and Asia, and took us to ten schools per tour and to the site of the new Anji Child Education Research Center. During our June Study Tour we had the privilege to take part in county-wide professional development led by Ms. Cheng and Dr. Bailey (Chelsea), where our group participated in in-depth video analysis alongside teachers and principals from Anji kindergartens.
Engagement

In addition to our upcoming Study Tours, we are excited to offer the Anji Play Revolutionary Leadership Training Program, a fifteen-month intensive learning experience that will prepare individuals to provide global leadership in the Anji Play Approach and take part in a revolutionary movement to return the right of True Play to all children.
The first Anji Play Revolutionary Leadership Training cohort will accommodate up to 30 individuals and is open to anyone who shares a commitment to the ideals and principles of Anji Play, including but not limited to, classroom teachers; home-based care providers; educational leaders; play activists; policy-makers; parents; psychologists, play therapists and medical professionals; librarians, children's museum and park-based program professionals; after-school, weekend and summer program providers; college educators and researchers; educational material designers and architects; artists and self-identified play professionals and advocates.
Interested individuals should contact us at revolution@anjiplay.com and learn more here.
We will host free informational webinars to answer your questions about the Anji Play Revolutionary Leadership Training Program on September 10, 2018 at 10AM Pacific Time and on September 11, 2018 at 6PM Pacific Time. Sign up to join us here.
Upcoming Study Tours
Dates for Study Tours to Anji in 2018-2019 are open for registration. Please contact us with any questions about visiting Anji or inquiries about group rates:
Fall 2018: 10/27-11/04
www.anjiplay.com/engage/fall2018
Winter 2019: 01/05-01/13
www.anjiplay.com/engage/winter2019
Spring 2019: 03/30-04/07
www.anjiplay.com/engage/spring2019
Summer 2019: 06/01-06/09
www.anjiplay.com/engage/summer2019
Fall 2019: 10/12-10/20
www.anjiplay.com/engage/fall2019

Stay Tuned
International True Play Conference
The Anji Child Education Research Center and the Zhejiang Province Office of Education will host the first annual True Play Conference in Anji County from May 12-16, 2019. The conference will include talks, presentations and conversations with national-level policy and practice leaders in China and important, innovative global voices, including our pilot partners and leading experts. Mark your calendars and stay tuned for more information about how to attend.
Open Hours

This fall we will also a introduce bi-weekly Anji Play Open Classroom opportunity. These casual video conference based conversations will be drop-in and open to the public. They are an opportunity to learn more Anji Play, ask questions and follow-up on previous conversations and experiences. Check out www.anjiplay.com/connect for schedules and a link to join and follow us on Facebook, Instagram and Twitter for timely updates.
Quote

"In our dark times, with childhood under siege and kindergarten a lost landscape, the beauty of Anji Play stops the heart. Such joy and daring—and love. The freedom to fly, intrinsic mastery let loose, imagination unfettered. This must be the birthright of all children, our youngest citizens of the world."

-Susan Ochshorn, Educational Policy Analyst and Author,
Anji Play World Newsletter
Vol. 2, Issue 1, Winter/Spring 2018
A New Year Begins: The Year of the Dog
The lunar new year is off to a busy start for the Anji Play team. Ms. Cheng, Yuan Qing (Anji Child Education Research Center), Principals Qian Min of Zimei Kindergarten and Sheng Yi of Jiguan Kindergarten and Jesse Coffino (AnjiPlay World) traveled to Savar, Bangladesh where they presented on the history of Anji Play, the principles of Anji Play material and environmental design, the contours of the Anji Play learning ecology and the progress of efforts to scale the Anji Play Approach globally.
Together we presented as part of the two-day Play Summit 2018, co-hosted by BRAC IED and the Anji Child Education Research Center. We had a chance to engage in deep dialogue with colleagues from BRAC, the Aga Khan Foundation, Plan International, the LEGO Foundation and the Ministries of Education of Bangladesh and Uganda, among many other colleagues from a wide range of organizations.
Ms. Cheng also traveled to Billund, Denmark as an invited guest at The LEGO Idea Conference 2018, where she spent time with old friends from MIT Media Lab, Cambridge University, The Exploratorium, Ryerson University and Aarhus University learning about their work and making many new friends.
Ms. Cheng will travel to Cambridge, Massachusetts on April 19th to spend time with researchers at the Lifelong Kindergarten Group (MIT Media Lab) and address the Chinese Education Symposium at Harvard Graduate School of Education, including remarks as part of the early education panel, and a 90 minute deep-dive presentation on Anji Play.
Jesse delivered a talk at Google Headquarters on February 9th entitled True Play, the Complex Mind of the Child, and the Future of Education: an American Parent's View of Anji Play. The talk provides an in-depth introduction to Anji Play. It can be viewed here and a transcript is also available here. We have also introduced a new resource for parents and teachers alike who want to learn more about what Anji Play is and why it is so important for children to have access to authentic experiences of True Play: www.anjiplay.com/parents
Engagement

Dates for Study Tours to Anji in 2018-2019 are now open for registration. Please contact us with any questions about visiting Anji or inquiries about group rates:
Summer 2018: 06/02-06/10
www.anjiplay.com/engage/summer2018

Fall 2018: 10/27-11/04
www.anjiplay.com/engage/fall2018

Winter 2019: 01/05-01/13
www.anjipaly.com/engage/winter2019

Spring 2019: 03/30-04/07
www.anjiplay.com/engage/spring2019

Summer 2019: 06/01-06/09
www.anjiplay.com/engage/summer2019

Fall 2019: 10/12-10/20
www.anjiplay.com/engage/fall2019

We will soon announce a series of regular drop-in discussion sessions and online parent workshops, stay-tuned for an email announcement and check www.anjiplay.com/connect for updates, dates and how to register/join.

Ms. Cheng California Visit

Ms. Cheng will visit California in May. In addition to delivering the keynote lecture at the annual Early Education STEM Institute hosted by the Region 9 Head Start Association in Los Angeles, Ms. Cheng will also provide institute participants with an opportunity to engage in hands-on play with Anji Play materials specially shipped to Los Angeles for the Institute. More info here.

In addition to visits to our Bay Area pilot sites, other events are being planned. Follow us on Facebook for timely updates.
Quote

"The reason that Anji Play works, its DNA, the reason it's different from a top-down model of defining outcomes that every kid should have, is because it's a grassroots ecology that is based on respect for the child, for the family, and for the teacher."

-Jesse Coffino
True Play, The Complex Mind of the Child and the Future of Education
Anji Play World Newsletter
Vol. 1, Issue 2, Fall 2017
Summer and Fall Semester in Review
This summer and fall were busy for Ms. Cheng and the Anji Play teams in the U.S. and China. We are grateful to our friends and pilot partners at Sierra College, Contra Costa College and Wu Yee Children's Services for hosting Ms. Cheng during her visit to California in August. It was a unique opportunity for Ms. Cheng to spend time with teachers and children in the Bay Area and the Sierra Foothills and connect with friends from Hacker Lab, CAAEYC and Region 9 Head Start Association. Ms. Cheng was also able to share her revolutionary approach to design with an engaged community of makers in the Sacramento area, a talk that was live-streamed in China and viewed by over 50,000 educators there.
In China, the True Play revolution continues to grow and drive local, provincial and national change. In addition to the Anji Play approach expanding to every kindergarten in Huzhou Municipality, home to 80,000 children ages 3-6, it will also be the focus of piloting efforts in each of Zhejiang Province's 90 counties, with one pilot kindergarten in each county to be selected through a rigorous review process. There are approximately 2.5 million children ages 3-6 in Zhejiang Province. This plan for province-wide adoption was announced on November 1 by Wang Zhenbin, Director of the Office of Early Education, Zhejiang Province Department of Education, at an event in Anji where Dr. Chelsea Bailey addressed educational leaders from Zhejiang Province about the global importance of Anji Play. Two weeks later, representatives of UNICEF and the Ministry of Education convened a meeting of educators in Anji to address the question of increasing the quality of early education through a study of the Anji early education ecology.
In October, we were joined in Anji during our third Study Tour by a deeply engaged group of global educators. In addition to representatives from our pilot partners--Carissa Christner from Madison Public Library, Mary Anne Kreshka and Nicole Asbridge from Sierra College and Michele Naidoo from Contra Costa College--we were also joined by educators from Uganda, Tanzania and Bangladesh, renowned play therapist Larry Cohen, and innovative educators from Madison, WI. Please check out our Facebook page www.facebook.com/anjiplayworld to see updates from each day of our amazing seven day experience at ten diverse schools.
We were deeply saddened to have lost Dr. Intisar Shareef, Co-Chair Department of Early Childhood Education, Contra Costa College. Dr. Shareef was a tireless advocate for equity in early education, a revolutionary, a leader, a visionary, a teacher, a mother, a grandmother and a friend. She will be dearly missed by all of those whom she touched in her work and life, and, in particular, by Ms. Cheng and the educators and children of Anji. We can strive to honor her legacy each day in our work by creating conditions of love, joy and respect in the lives of the children and teachers in our communities. We were lucky to have Dr. Shareef visit Anji last spring. We encourage you to learn more about her life and legacy here:
Engagement
We are excited to offer two more Study Tour opportunities during the 2017-2018 school year: April 7-15, 2018 and June 2-10, 2018.
Register here soon to ensure significant savings: www.anjiplay.com/engage
We have also hosted several successful free webinars introducing the Anji Play approach, providing in-depth information about visiting Anji and most recently discussing the process of piloting the Anji Play approach.
The last webinar of the year will be held on December 19th at 6:00PM Pacific Time and focus on piloting the Anji Play approach in your community. You can register here and check back for updates about future webinars: www.anjiplay.com/connect
Quotes
"The principles and practices of Anji Play are suited to all children, regardless of their age, and True Play is the right of every child. Every child of every age needs our full trust and needs us, as adults, to step back. And it is not only children in play who require love, risk, joy, engagement and reflection, but as adults, our work and our learning should also manifest these five core principles."
-Ms. Cheng Xueqin
"I have seen the future of early childhood education and it is Anji Play. At least it ought to be the future. Phenomenal learning takes place there—cognitive, social, emotional, creative, scientific—because pressure and conflict have been replaced by love and support. We have known a long time that children learn best when they are fully engaged with their teachers, their peers, and their environment. They learn best when they feel joy rather than fear or boredom All of these things are evident in every aspect of Anji Play, all day long, to a degree I have not seen anywhere else."
--Dr. Larry Cohen, author Playful Parenting
Anji Play World Newsletter
Vol. 1, Issue 1, Summer 2017
School Year in Review
2016-2017 was a busy school year for Ms. Cheng and her teachers in Anji and for our team here in the United States, a year full of exciting developments, new friendships and new and expanding pilot programs. As more and more educators learn about Anji Play and as more children benefit from growing recognition of the importance of risk and self-determination in play, we are inspired to see the core principles of Anji Play--love, risk, joy, engagement and reflection--taking root in the global pedagogical discourse.
Last October we hosted the first Anji Play Study Tour with an engaged group educators from the United States, Singapore and China. In addition to a week spent visiting eight Anji kindergartens, we had extraordinary access to Ms. Cheng, her teachers, principals and took part in high-level dialogue with a visiting group of educational leaders from across China. Mary Anne Kreshka (Sierra College, CA) and Dr. Annie White (CSU Channel Islands) returned from their trip to begin work on a unique pilot program at Sierra College Child Development Center (more in Pilots and Events below).
In December, we welcomed a group from the PlayFutures foundation. PlayFutures members including Carla Rinaldi from Reggio Emilia, Dr. Jack Shonkoff from Harvard and Bertha Magoge leader of the innovative South African NGO Training and Resources in Early Education spent two days visiting schools and meeting with children and teachers.
In April, our second Study Tour included participants from nine countries. In response to feedback from our first Study Tour, the second iteration included an entire day at Jiguan Kindergarten and more meetings and conversations with Anji parents. Our group included educators from colleges and universities in the United States and Australia, and representatives of the globally influential NGO BRAC from Bangladesh and Tanzania. Dr. Intisar Shareef and Sandra Moore, Chairs of the Department of Early Childhood Education at Contra Costa College, CA returned from their trip to begin work on a unique pilot program at the Contra Costa College Early Learning Center (more in Pilots and Events below).
The impact of Anji Play and the True Play revolution continues grow in China, where, at the end of May, the Ministry of Education kicked off a month-long, national initiative to promote self-determined, True Play in all public and private early education programs. The kick-off began with a national-level conference in Anji, an Anji Play exhibition and a renewed commitment from the Ministry of Education to include the principles, practices and materials developed by Ms. Cheng in national educational guidelines.
In June, the China National Society for Early Childhood Education hosted a two day "Research Institute on the Anji Play Pedagogical Model" in Anji County. Dr. Peter Mangione (WestEd), Prof. Cas Holman (RISD) and scholar of curriculum theory and design Dr. Chelsea Bailey shared their global view of Anji Play with 850 educators from across China, speaking alongside Ms. Cheng, Prof. Hua Aihua (East China Normal University), Prof. Liao Liying (Beijing Normal University), Ms. Zhang Jie (Principal Anji Experimental Kindergarten) and Ms. Sheng Yi (Principal Anji Jiguan Kindergarten).
In July, Krystina Tapia joined the Anji Play team as Global Teaching Lead. Ms. Tapia, a graduate of UCLA and Teachers College, Columbia University, joined the first Study Tour in October and volunteered as a guide during our second Study Tour in April. She will spend the fall in Anji working in a 3s classroom, gaining important insight into the process of introducing Anji Play to children as they first begin their experience of the three year, full-time Anji Play kindergarten curriculum. We are eager for Ms. Tapia to develop models for working with teachers and educators globally focused on the Anji Play approach.
Engagement
We are pleased to offer open enrollment for three upcoming 7-day, 8-night all-inclusive Study Tours: October, 2017 and January and June, 2018.
Discounted early-bird registration for the October 14-22, 2017 Study Tour has been extended to August 15. Register now to enjoy a significant discount.
More information and registration here www.anjiplay.com/visit
We have also begun to offer a series of introductory webinars that have drawn hundreds of deeply engaged participants. In the coming months, we will expand these opportunities to include more in-depth introductions to the principles and practices of Anji Play, specialized sessions for pilot programs and specific practice areas (including library programming, parenting and community organizations) and topics like environmental design and material selection. Please check out our website, Facebook, Instagram and Twitter feeds for timely announcements of dates, times and registration details for these webinars.
Anji Play Global Pilot Programs
One City Early Education Centers in Madison, Wisconsin, a not-for-profit organization providing full-time ECE for Madison's critically underserved kids and families, has reached full-enrollment and their lead teachers Carol Spoehr and Bryce Pickett joined us in Anji this April to deepen their knowledge of the approach. http://www.onecityearlylearning.org
Madison Public Libraries has expanded its Wild Rumpus! Anji Play summer programming from once a week (last summer) to twice a week (this summer) in two separate public park locations. Led by children's services librarian Carissa Christner, the summer programming will add a dedicated trailer to transport an expanded inventory of Anji Play materials currently being shipped from China and manufactured locally in Madison. Wild Rumpus! will continue this fall with a new space that included both ample indoor and outdoor space. With the efforts of Carissa and the Madison Public Library, neither snow nor rain nor heat will keep the children of Madison from accessing the joys of True Play! Follow Carissa's in-depth reflections and updates on her programming here: http://librarymakers.blogspot.com
Sierra College Child Development Center (CDC), a lab school supported by Early Head Start and the State of California, has begun a close collaboration to implement Anji Play practices in their curriculum, including Play Sharing, Play Stories and the creation of Anji Play materials by the local community through Sierra College's partnership with Hacker Lab in Rocklin, CA. Mary Anne Kreshka, who, along with CDC director Morgan Best, has played a critical role in spearheading the initiative, was a participant in our first Study Tour and returned home dedicated to sharing the work of Ms. Cheng with her community. We are also grateful to the work of Darlene Jackson, Assistant Dean of Business and Technology for her support and dedication to this pilot program. http://nevco.org/programs-services/child-development/
Contra Costa College Early Learning Center, a laboratory program of the Contra Costa College Department of Early Childhood Education, which serves families in the community, as well as those of college faculty, staff and students, will begin an in-depth Anji Play pilot program beginning this fall that will include updated environmental design, Anji Play materials and work with the Department of Early Childhood Education on professional development, observation and the teacher and community practices of Anji Play. Department Chairs Shareef and Moore returned from a visit to Anji in April, 2017 to lead this collaborative exchange between the Early Learning Center, the Department of Early Childhood Education and Anji, China. http://www.contracosta.edu/student-services/early-learning-center/
Expanded pilot programs in the United States, Europe, Asia and Africa are currently taking shape, and we will include updates in our upcoming newsletter, on our website and through social media. If your organization has a deep commitment to the principles of True Play and a sincere interest in beginning a conversation about piloting the Anji Play approach, we hope you will reach out to us here and provide more information about your interest here www.anjiplay.com/join
Events
Ms. Cheng will visit California from August 5-20, in addition to meetings with key institutional partners, we are excited to co-host two important public events.
August 11, 1:00-3:30 PM
"Contra Costa College: An Introduction to Anji Play"
Contra Costa College, 2600 Mission Bell Drive, San Pablo, CA, GE Building, Room 225
Ms. Cheng and Dr. Bailey will provide an in-depth introduction to the Anji Play approach with time for audience Q&A.
Free and Open to the Public
Eventbrite Link: goo.gl/Zky9Pc
August 15, 6:00-8:00 PM
"Doing/Seeing/Thinking/Making: The Anji Play Ecology"
Hacker Lab Powered by Sierra College, 4415 Granite Drive, #200, Rocklin, CA
Ms. Cheng and Dr. Bailey will provide an in-depth introduction to the larger Anji Play ecology and the connection between ecologies of True Play and the maker movement with time for audience Q&A.
Free and Open to the Public
Eventbrite Link: goo.gl/JmfJBz
September 12, 12:00-1:00 PM
"The Anji Play Ecology"
Lawrence Livermore National Laboratory, Livermore, CA
Dr. Bailey and Jesse Coffino will address members of the Lawrence Livermore National Laboratory community about the history and development of the Anji Play ecology with an emphasis on the role of communities and parents.
Open to Laboratory employees only.
September 23, 8:30 AM - 4:30 PM
"Painting the Future - Building Community in Early Care & Education Conference"
Pacific Oaks College, 1 West Campbell Avenue, Campbell, CA
Dr. Bailey's keynote address "True Play and the Recovery of Joy in Early Education" will address the central role of self-determined play, love, risk, joy, engagement and reflection in creating efficacy in ecologies of learning and communities of practice.
Conference Fee Required
Eventbrite Link: goo.gl/Syw4pe
Upcoming
This fall will see the publication of the first foundational book on the Anji Play approach with essays by Dr. Chelsea Bailey and Anji Play advisory board members Drs. Peter Mangione and Julie Nicholson, as well as insight and analysis from acclaimed Chinese scholars. While the book will initially appear in Chinese, we are planning for English-language publication, and hope to preview the book for our friends by sharing the essays of Drs. Bailey, Mangione and Nicholson in the coming months as we work on translating the essays that will appear in original Chinese.
We are actively working to create the first prototype for an Anji Play app. The app will allow teachers, administrators and parents to share in the processes of documentation and sharing. The app will be robust with multiple functions to support ecologies of True Play. Importantly, it will allow for educators, children and families to connect across regional, cultural and class divides, and share their experiences, observations and insights and develop a common language of True Play.
We continue to update our website, including the recent addition of a critical bibliography covering topics like risk, cause-and-effect hypothesis and literacy. Future updates will include FAQs about piloting, translated interviews with Ms. Cheng, Anji Play research and expanded opportunities for dialogue and engagement.
Your feedback is incredibly valuable to us, so please never hesitate to let us know what you would like to see more of, want us to add or change.
Resources
We continue to add more resources at www.anjiplay.com
Please take a moment to visit our growing bibliography of play research: http://www.anjiplay.com/rights
Read about the Rights and Responsibilities of True Play:
http://www.anjiplay.com/research
And please check our social media feeds for updated resources.
Prompt
When your goal is to convince someone to take an action, to change their stance or to change their community, you must first allow them to identify your ideals within their own experience. "Play Memory" is an incredibly valuable tool developed by Ms. Cheng that achieves just this end. As Ms. Cheng saw that her attempts to bring joyous play to the 130 public kindergartens under her supervision had resulted in "false play," children playing according to the expectation of their teachers, she asked herself and her teachers to reflect on their deepest memories of play as children.
Through this practice she began to identify common themes: outdoor play, risky play, play with large, minimally structured materials, play that took place over extensive periods of time without constant adult intervention. Her developing approach, and the environments and materials of Anji Play, were informed by these individual and collective memories.
When parents objected to the risky, self-determined play taking place in their children's schools, she asked these same parents to recall their deepest memories of play as children. In response to their joyous and wistful recollections, the natural next question became, "Don't you want your children to have these same experiences, these deeply ingrained memories that you carry with you to this day?"
If you are a teacher, a parent, an administrator, take a moment to ask yourself this same question, "What is my deepest memory of play as a child?" Then ask someone you know, a colleague, another parent, your dentist or mail carrier. Start expanding your circle of true play allies.
Change starts with conversation. Change starts with shared experience and common dreams.
Share your play memories with us at www.facebook.com/anjiplayworld or www.twitter.com/anjiplay and use the hashtag #playmemory

"True Play in Anji's kindergartens opens the door to important new insights into the full potential of play in young children's lives. In Anji, children freely create, take on challenges, and solve problems together. In their self-determined play, children express joy and love as they learn, reflecting the ever-present respect and confidence of their teachers. Anji Play represents an extraordinary opportunity for early educators worldwide to deepen their understanding of children's play."
— Dr. Peter Mangione, Co-Director, WestEd Center for Child & Family Studies and the Program for Infant/Toddler Care